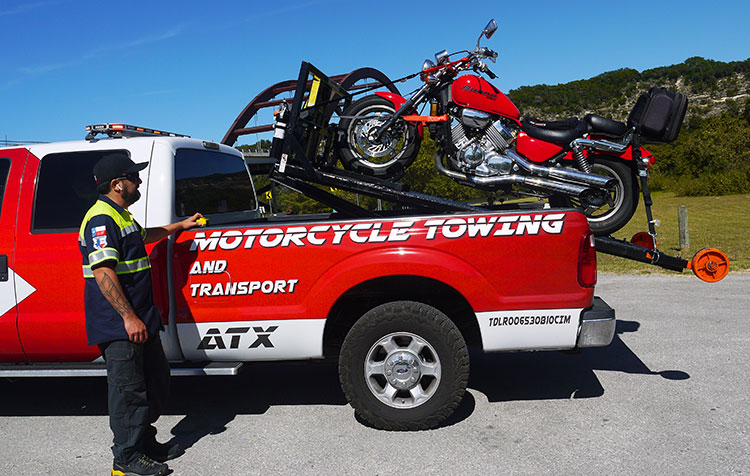 ATX Motorcycle Towing & Transport
ATX Motorcycle Towing and Transport arose from the need, or rather lack of affordable and efficient towing service for motorcycles and scooters in and around the Austin area. As motorcycle owners and enthusiasts with towing needs of our own, we realized that the existing towing companies in Austin, TX that are set up to tow passenger vehicles are not set up nor qualified to tow motorcycles. We do not use chains or tie downs designed for passenger cars. All of our equipment is designed specifically to tow/ transport motorcycles and scooters, and every element of every truck has been poured over extensively to ensure quality and satisfaction no matter what type of ride we are securing.
In addition to towing motorcycles and scooters we offer roadside assistance for all vehicles including fuel delivery, jump starts and tire inflation.
We are located in central Austin and cover areas as far as 40-50 miles. We use Amerideck hydraulic motorcycle lift systems, and all available industry standard tie down straps for motorcycles, trikes and scooters, no job is too big or too small.
We are open 7 days a week and our employees are all motorcycle enthusiasts, riders, and owners. We love what we do and this isn't just a 9 to 5 job for us. We get to work with motorcycles all day… what more can you ask for?
Businesses grow when we work together and keeping this in mind, we welcome all in the motorcycle industry to contact us about our referral plan.
We are licensed and insured.
Call (866)-245-3869 | 866-BIKE-TOW